Wind Farm
These can be located inshore of offshore and all are subject to regular servicing or repair. Inshore windmills are often in very shallow water, sometime in environmentally sensitive areas for birds and other wildlife.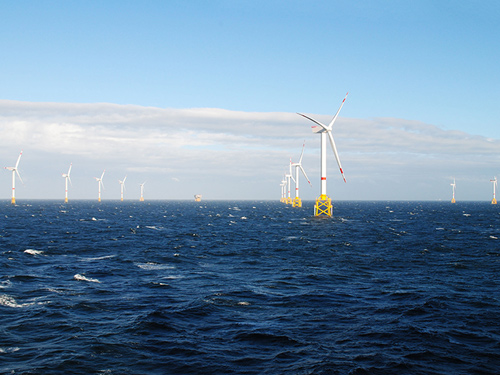 Problems
Oil spillage during servicing or repair operations.
Environmental damage to sensitive locations.
Access limited by water depth.
Limited manoeuvrability of service vessels.
No provision to collect oil
Generally, only larger vessels are certified to go off-shore
How do we clean up the mess
Solution
For offshore and inshore water depths 600mm and greater the solution is the highly efficient and manoeuvrable Gobbler 290® and a suitable capacity bladder.
For heavy oils; use the pre-installed brush skimmer, for lighter oils such as Diesel, use the optional Drum skimmer. (This is a 2 minute interchangeable module)
For inshore use in water depths less than 600m, use Govercraft® #2 and spread GoSorb® over the affected areas. Within minutes the oil is absorbed and stable. Collection can be by suction alone, or booms and suction. It matters not if water is sucked up, the oil is retained in the GoSorb®, and the excess clean water can be pumped overboard.
Both recovered oil and GoSorb® can be 100% recycled for profit.
Easily transported using Gobbler road/launch trailers and tow trucks.